Note: our Next Level Gamedev Sessions are usually held in English, because we usually feature international speakers. English sessions are marked with (EN).
Unsere Next Level Gamedev Sessions sind die Fortführung unserer Grundlagen-Sessions bei opencampus. In diesem Format laden wir erfahrene Speaker:innen ein, um mit ihnen tiefergehend über spezialisierte Themen zu sprechen. In der Regel starten wir mit einem Interview und leiten dann über in eine Q&A-Session, in der alle Teilnehmer:innen Fragen stellen können.
Die Next Level-Sessions finden immer am 4. Donnerstag eines Monats statt. Wir treffen uns auf unserem discord-Kanal und streamen die Sessions auch auf twitch. Ihr erfahrt als erste von den nächsten Sessions, wenn ihr euch auf Meetup oder zu unserem Newsletter anmeldet.
---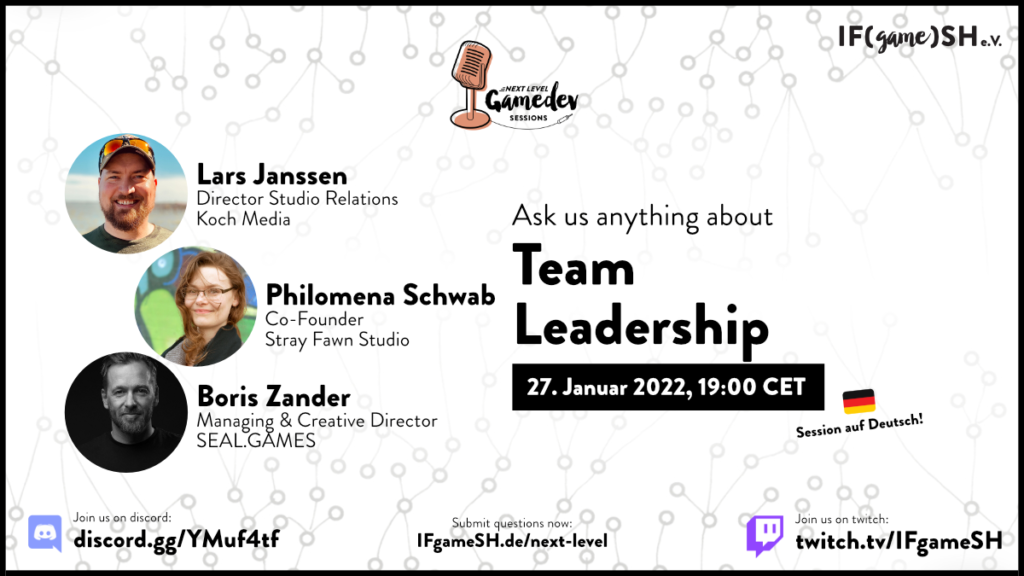 January 27th 2022: Team Leadership (DE)
Wir machen mal wieder eine Session auf Deutsch! Dieses Mal mit Philomena Schwab von Stray Fawn Studio, Lars Janssen von Koch Media und Boris Zander von SEAL.GAMES. Wir sprechen über Team Leadership.
---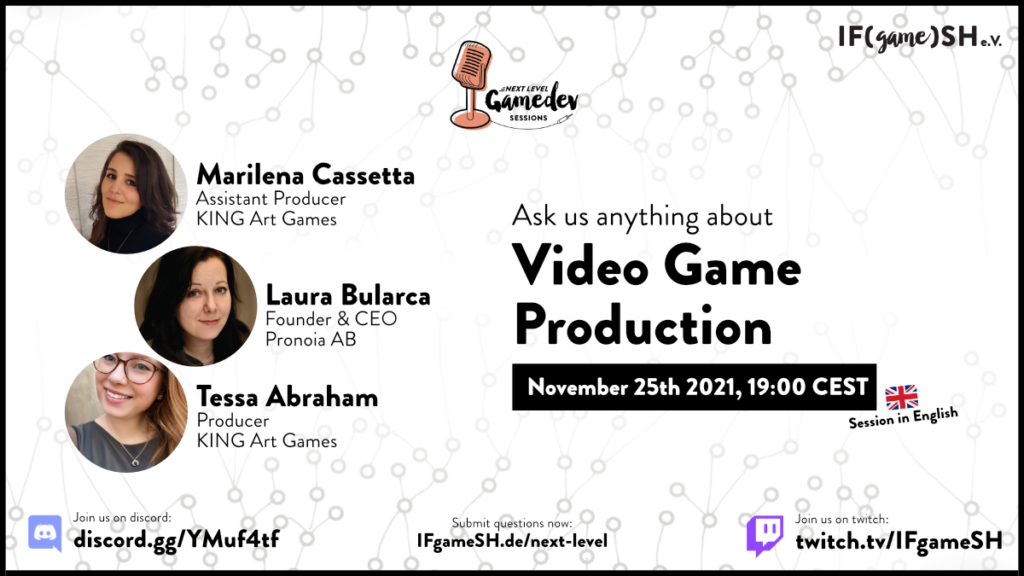 November 25th 2021: Video Game Production (EN)
We'll talk with Marilena Cassetta and Tessa Abraham from KING Art Games and Laura Bularca from Pronoia AB about their experiences when producing video games and doing their project management.
---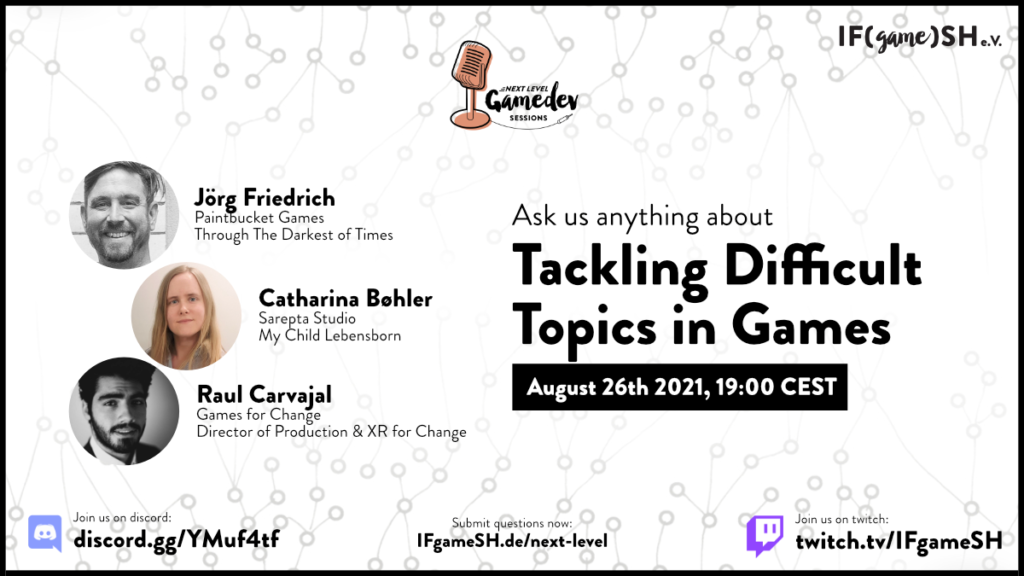 August 26th 2021: Tackling Difficult Topics in Games (EN)
We'll talk with Jörg Friedrich, developer of "Through The Darkest of Times", Catharina Bøhler, developer of "My Child Lebensborn" and Raul Carvajal, director of production at Games for Change, about their experiences when tackling difficult topics in video games.
---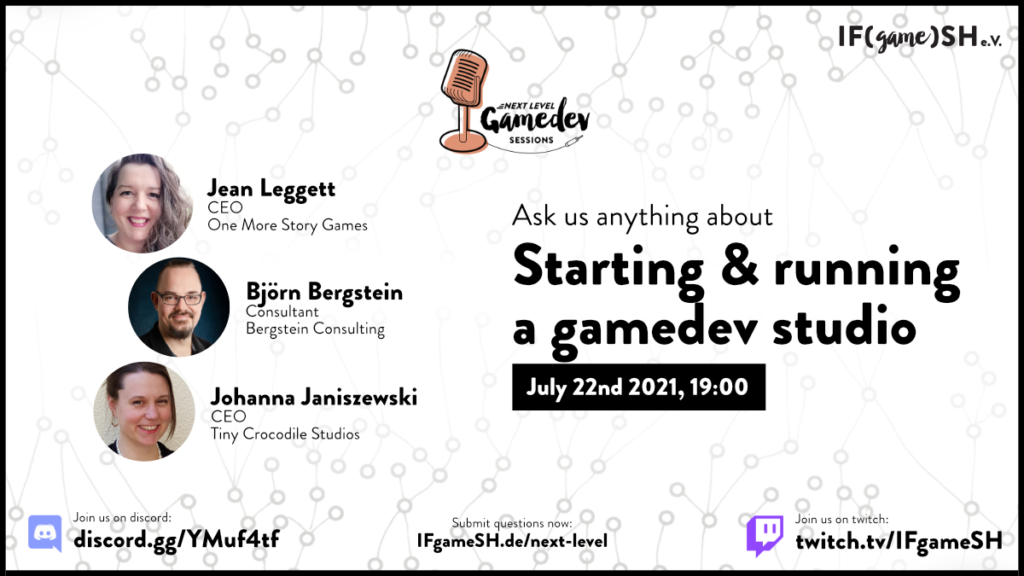 July 22nd 2021: Starting & running a gamedev studio (EN)
We'll talk with Jean Leggett (One More Story Games), Björn Bergstein (Bergstein Consulting) and Johanna Janiszewski (Tiny Crocodile Studios) about their experiences starting and running gamedev companies.
---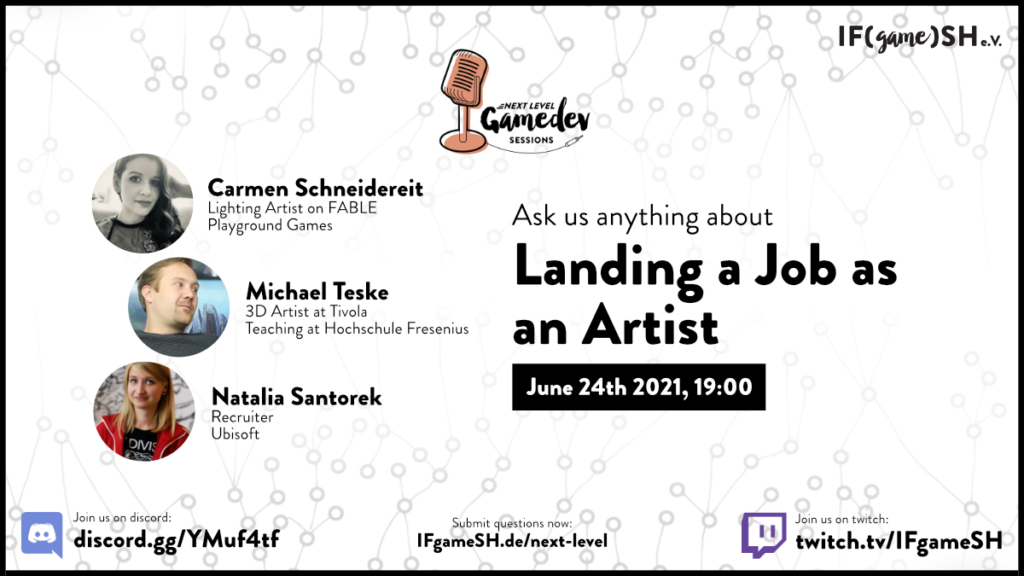 June 24th 2021: Landing a Job as an Artist (EN)
Wir sprechen mit Carmen Schneidereit (Lighting Artist am neuen FABLE-Spiel bei Playground Games), Michael Teske (3D Artist bei Tivola & Dozent and der Hochschule Fresenius) und Natalia Santorek (Recruiter bei Ubisoft) darüber, wie man einen Job in der Games-Branche findet.
---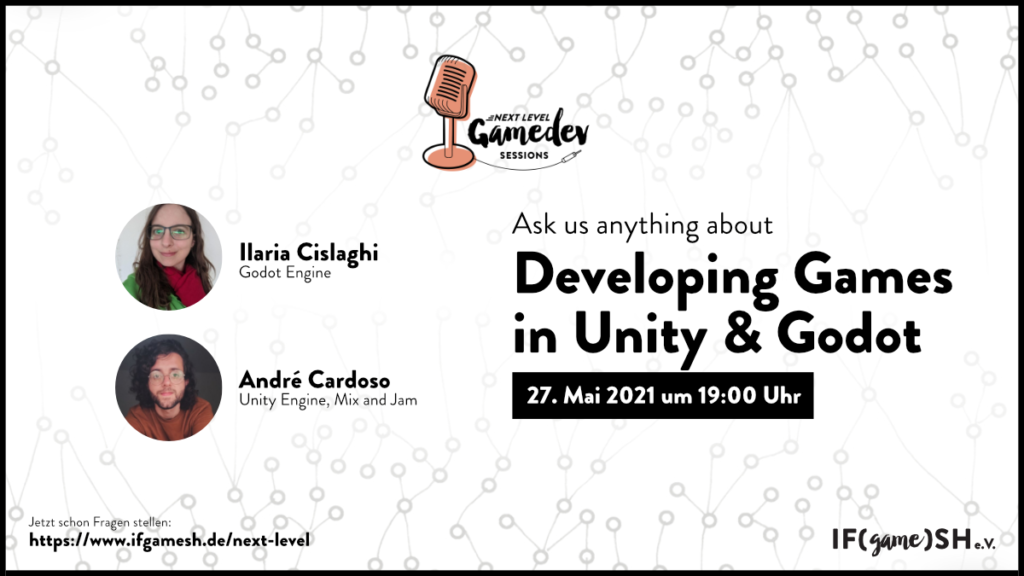 May 27th 2021: Developing Games in Unity & Godot (EN)
Wir sprechen mit André Cardoso von Unity und Ilaria Cislaghi von Godot über die Entwicklung von Spielen sowie die Unterschiede ihrer Engines.
---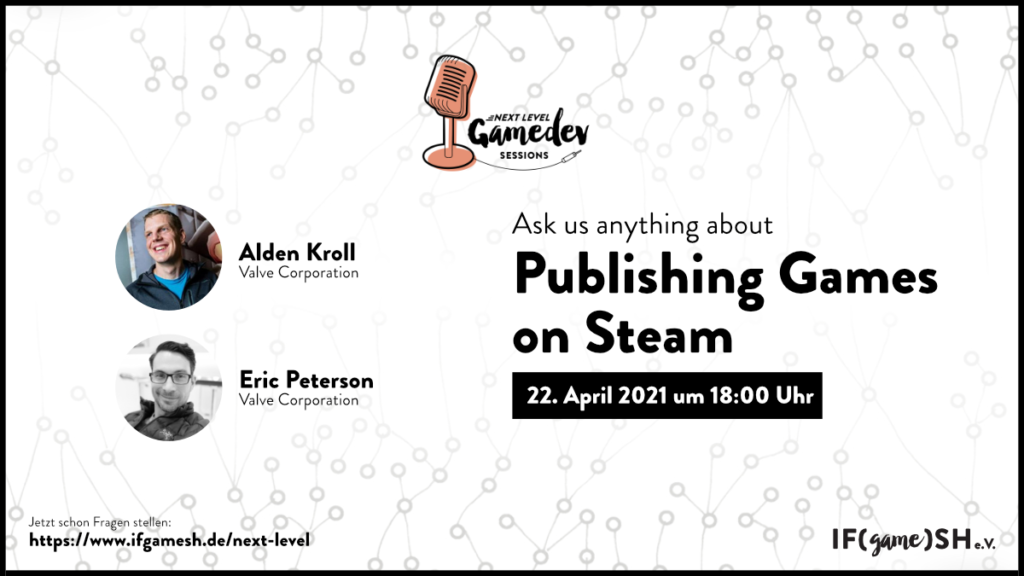 April 22nd 2021: Publishing Games on Steam (EN)
Zu unserer ersten Session besuchen uns gleich drei Mitarbeiter von Valve und sprechen mit uns über Best Practices beim Veröffentlichen von Spielen auf Steam.