We will host our first Global Game Jam site in Kiel on the weekend of the 25th – 27th January 2019. A game jam is a gathering of game developers with the goal of developing a game based on a theme within 48 hours.
The Game Jam is supported by #Vekselwirk.
When: Friday, 25 January at 16:00 to Sunday, 27 January at 19:00 (latest check out)
Where: Kuhnkestr. 6, 24118 Kiel (close to the University)
Who: Everyone who is older than 18 and interested in developing new games.
What to bring: own hardware, sleeping bag, power strip, ear plugs, post-its, etc.
The theme of the Global Game Jam 2019 will be announced on-site. Participation is free, but seats are limited. We will provide basic food (with vegan options) and drinks for the jammers, but you will need to bring your own equipment. Don't forget to bring a spare power outlet 🙂
Official Hashtag of Global Game Jam: #GGJ19
Official Hashtag of our site: #GGJKiel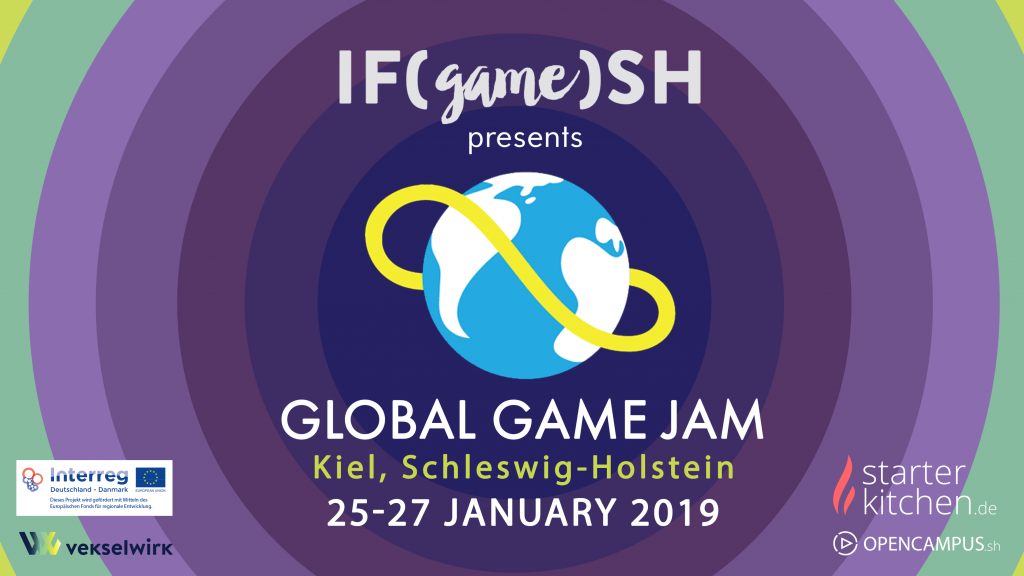 ---
Schedule
Day 1 : Friday
16:00 – 19:00
Registration / jammer check in
16:00 – 17:00
Talks/Keynotes
17:00
Start of Jamming Time!
17:00 – 18:00
Getting to know each other / ice breakers / group forming activities
19:00 – 20:00
Dinner and social time

Day 2 : Saturday
09:00 – 10:00
Breakfast
13:00
Deadline to have an account on the GGJ website, and set up a game project page
13:00 – 14:00
Lunch
17:00 – 18:00
Playtest each others games
19:00 – 20:00
Dinner and social time

Day 3 : Sunday
09:00 – 10:00
Breakfast
13:00 – 14:00
Lunch
17:00
Deadline to upload finished games to the GGJ website
17:00 – 19:00
Short presentations – each team does a short presentation or game play video to show the group
---
Frequently Asked Questions
Q: What is Global Game Jam?
The goal of Global Game Jam is to bring people together to create video games or non-digital games, like board or card games. Participants, also known as jammers, work together to rapidly prototype game designs and hopefully create inspiring new ideas that contribute to the growth of the games industry. All Global Game Jam sites share a common theme and jam diversifiers – sub-themes that provide additional, but optional, structure to jammers. We ask participants to create an original game inspired by the jam's theme within 48 hours. The brief time span is meant to help encourage creative thinking to result in small, but innovative, experimental games. Please note: Global Game Jam is not a competition.
Q: Do I need to have a team to participate?
No! We will be holding teamfinding activities and it is also allowed to participate by yourself or join as a team. However, we strongly recommend finding new people to jam with as meeting new people greatly enhances the gamejam experience.
We will help you find a team on-site. We will have a dedicated area to pitch game ideas and name tags in different colors to represent specific fields (Game Design, Dev, Graphics, etc.).
Q: What will be provided?
Our gamejam will be held at the starterkitchen, which is a coworking space. If(game)SH will cater for the entire weekend with food/drinks and wifi. We will also offer vegan options but please feel free to also bring your own favorite dishes, sweets, energy drinks – you know best what you'll need to get through this weekend alive. We have microwaves and a basic kitchen in place if you want to prepare own dishes besides the provided catering. There are showers that you can use. You may sleep on-site, but you'd have to bring a sleeping bag.
Q: What's the theme?
GGJ has a theme that all jammers share and it is the kernel for teams to start brainstorming. This will be given to the participants after 5 PM local time on the day the jam begins. Remember, the theme is a surprise, please don't tweet or share the theme on social networks, or with any jammers not on site. It needs to be kept a secret from sites that start later than yours!
Q: What are diversifiers?
The GGJ Diversifier system aims to help jammers diversify their games while providing motivation and challenges for experienced game jammers. In a sense, the diversifiers are a free-for-all voluntary list of secondary constraints that individual teams can choose to follow, or not, as they please. If they do select one or more diversifiers, they get to mark those diversifiers as fulfilled on our website when uploading their game. The diversifiers will be published on the Global Game Jam website two weeks before jam. We will also inform you about them via Slack.
Q: How do I enter a game?
All games need be uploaded to the GGJ server before the jam is complete. All content needs to be on our server by 5 PM local time Sunday. Sharing and showing your work is a core GGJ philosophy, so we ask that not only game executables be uploaded, but also source code, assets, makefiles, and anything else needed to compile your game. All GGJ jammers hold IP rights to their games and file uploads are shared under either the Creative Commons' Attribution-NonCommercial-ShareAlike 3.0 license or the Attribution-NonCommercial-ShareAlike 4.0 International (CC BY-NC-SA 4.0) (allows for others to share & alter, but not sell – more info in the FAQ).
Q: How do I upload a game?
Upload instructions & guides will be provided by jam organisers on-site. Basic schedules generally require uploads to begin between 3-5PM local time on Sunday. This year Site Organisers will also be able to edit game descriptions and upload files on behalf of your teams, if they need help with this step.
Q: How do I register my team?
All participants who want to get credit for their game need to go to globalgamejam.org and create a profile, join their jam site's page, and associate themselves with their uploaded game. If it doesn't exist, the game needs to have a project page be created online by a team member first.